Posted: 31 August 2011 at 7:24am | IP Logged | 1
post reply

---
Well, okay, technically what Nathan asked for is my own personal SILVER age -- ie, a representation of the time I was reading comics when I first got into the hobby. And for me, that would have been from around 1956 to 1964.

There are those on the Forum who have shown their first instinct in the case of pieces like this is to seek out the characters who are missing. This time, I can only say, save your energy for things that are actually important. The characters represented here are a combination of my own arbitrary choices, and the bad distribution in my part of Canada in those days. So, for example, if you can't find Kuurgo, Master of Planet X, it's because I didn't buy that issue until long after my "Silver Age".

It should be noted that, unlike the Avengers piece, there are no multiple iterations of the same character on this one. Each Batman, for instance, is a DIFFERENT Batman. Time travel and magic are allowed, of course -- hence Superman and Superboy, since they really did meet during the time I was reading their adventures. (There is one exception to this "rule" -- but I will let those of you with long memories figure out who it is -- and why it isn't really an exception.)

Some of you with sharp eyes will doubtless notice, also, that the proportions are slightly different on this one. That's because the art supply store where I normally pick up these big boards has for some reason stopped carrying the 20x30 inch size, so I buy 22x30 and trim to the usual measurements. In this case, because of the insane number of figures in the piece, I decided not to trim, so this is the full 22x30.

Also, because Nathan asked that this one not be a "graduation picture" like the FF, X-Men and Avengers pieces, prompting me to go for a bird's eye view of the proceedings, I decided to add a grey tone to the "floor". This has the double purpose of punching up the figures, and also emphasizing the different levels those figures are standing on, the latter being so I could put some groups on a "lower" level, making them smaller and therefore taking up less space.

Let the counting commence!!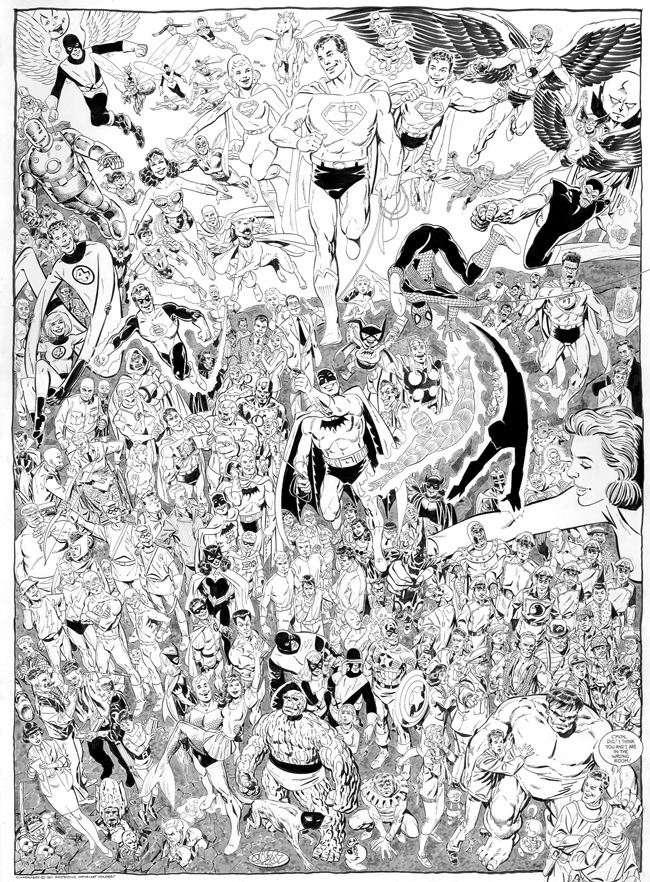 And here's the "uncensored" pic of Young Nathan holding the unfinished piece when he was here two weekends ago. . .