Posted: 23 June 2017 at 9:04pm | IP Logged | 1

---
I have seen a meme going around that challenges the assertion that "The Black Panther" movie will be the first black superhero film.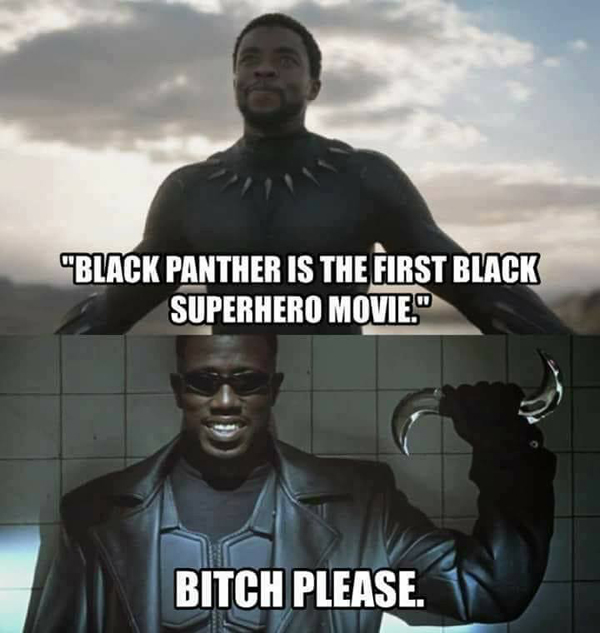 Naturally, it is not. But the meme suggests, wrongly, that "Blade" (1998) was the first. If the meme made a distinction about it being Marvel's first black superhero movie, it might have something, but the meme does not make that distinction.
So, who is the first black superhero to head a feature theatrical film? "Steel" (1997) came before "Blade", if we are talking more or less serious action movies. "Spawn" (1997) was released that same year.
Do we include comedies? If that is the case, there was "Blankman" (1994) with Damon Wayans, and before him there was "The Meteor Man" (1993) with Robert Townsend.
Now "Blade" does beat "Hancock" (2008), but "Hancock" beats "The Black Panther" to the punch, as does Halle Berry's turn as "Catwoman" (2004).
What the "Black Panther" movie will be is the first big budget, mainstream black superhero movie.
I believe that "Blade" does deserve a lot of credit in that it was the first major release superhero film after "Batman and Robin" and its' success helped get "X-Men" made. After "Batman and Robin"'s disappointing box office and critical reception studios were leery about going ahead with comic book properties as film franchises. "Blade" came along and showed that if done more correctly, comic book movies still had some life in them.
Of course, "X-Men" (2000) was a success, as well, and it and "Blade," along with "Spider-Man" (2002) started off the new era of superhero films.
"The Black Panther" is a big thing, though, as it is the biggest budgeted, most mainstream (considering the Catwoman film was not considered related to the "Batman" movies) film to feature a black superhero, with a prominently black cast. It looks to be awesome, and I hope it is a huge success allowing for more diverse superheroes from the comics to get the big screen treatment.
Are there any other movies with black superheroes I am missing? What are your thoughts about these films?



Edited by Matt Hawes on 23 June 2017 at 9:08pm