Posted: 31 January 2023 at 11:25pm | IP Logged | 4
post reply

---
Kirby did four nice DEFENDERS covers in a row.




DEFENDERS #42 by Jack Kirby & Klaus Janson
Just like he did with the Sandman, Kirby takes a Spider-Man villain--the Rhino--and makes him looks VERY powerful! And Solarr was from a non-Kirby Captain America period and he makes him impressive. Very fun to see Kirby's take on Valkyrie and Dr. Strange, but especially Luke Cage!
DEFENDERS #43 by Jack Kirby & Al Milgrom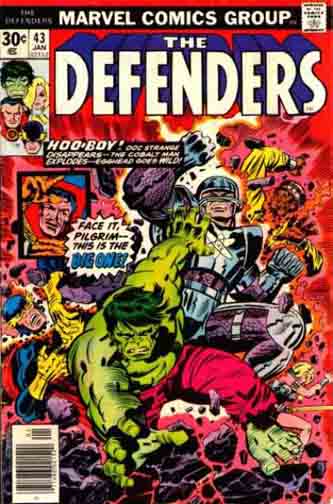 Another powerful take on the Hulk, different than Kirby's 60's version. Though a Silver Age villain, Kirby didn't draw the Cobalt Man until now--and makes him look very formidable. Fun to see Kirby's Nighthawk.
DEFENDERS #44 by Jack Kirby & Al Milgrom
I drew all the Defenders villains for fun and I was surprised to see that he has long sleeves in the story, but here Kirby shows off powerful arms that make the cover more dynamic. More Kirby Luke Cage and Nighthawk!
DEFENDERS #45 by Jack Kirby & ?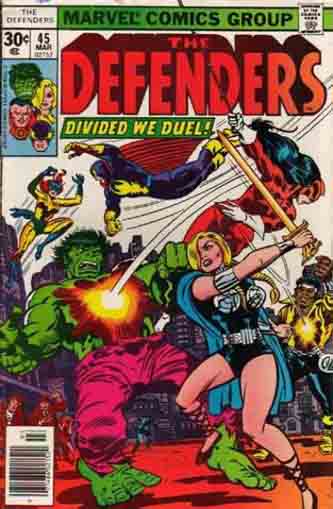 A powerful shot of Valkyrie as Kirby makes her his own, and more good Luke Cage and Nighthawk in the background. I do like Kirby's 70's Hulk--I wish he had done some issues! (Red Guardian was redrawn by John Romita.) I wonder if Kirby knew that Hellcat was Patsy Walker--a character he drew years earlier attending Reed and Sue's wedding!


Edited by Eric Jansen on 31 January 2023 at 11:30pm