Posted: 04 February 2023 at 3:24pm | IP Logged | 6
post reply

---
Some of my very favorite Kirby covers were for INVADERS. He did 14 in all, (I believe) the longest run for any 70's comic he didn't also write & draw.




INVADERS #5 by Jack Kirby & Joe Sinnott (design by Ed Hannigan)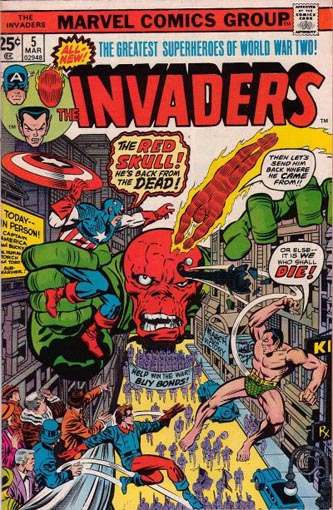 Boy! What a fantastic cover! Nobody could draw the Red Skull like Kirby! (Also, his Bucky was always the best.) I'd like to see the original--oversize and in b&w! The only flaw is no Toro! (Couldn't fit him in somewhere?!)
INVADERS #8 by Jack Kirby & Frank Giacoia
Such a great intro for Union Jack! Such an iconic pose for the main character and the back-up figures just add to the excitement! Somehow, nobody seems small (except maybe Toro)--how do you fit 5 or 6 figures into one small rectangle and still have them individually pop?!
INVADERS #12 by Jack Kirby & Joe Sinnott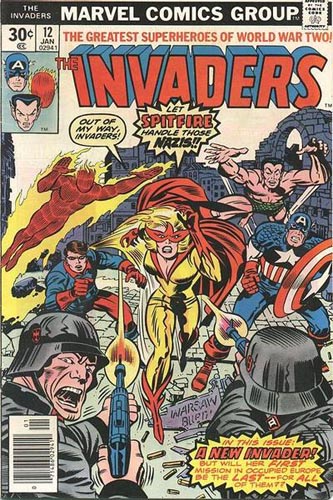 Everything I said about the Union Jack cover applies to this cover introducing his daughter Spitfire too! Two great characters (that JB treated very well in later stories).
INVADERS #11 by Jack Kirby & Frank Giacoia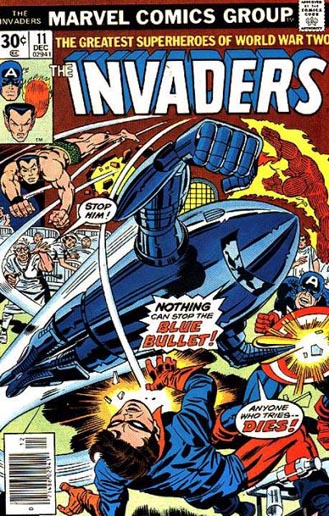 Another exciting, dynamic, impressive cover! Showcasing a bit of a throwaway villain (I believe Roy Thomas said he was just an Iron Man riff), this cover might have been impossible for anybody else to do and make work! That is a crazy layout--but it works great!


Edited by Eric Jansen on 04 February 2023 at 3:26pm