Posted: 04 July 2022 at 5:25pm | IP Logged | 6
post reply

---
Just about when I was first discovering the comic book art of John Byrne, was around the time that began to also pay close attention to football -- this was the 1985 to 1986 football season, and back then I collected the Panini Football 86 sticker album.




As a consequence, just about every player from the English First Division is scorched into my memory, from Ricky Hill (Luton Town) to Glenn Roeder (captain of Newcastle) to Luther Blissett (Watford)... and that means I remember well John Byrne of QPR.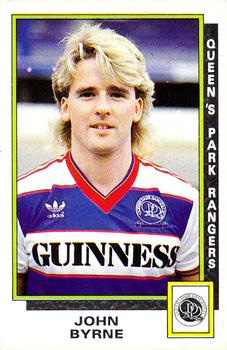 (back then the sponsor for West Brom was -- good for the kids -- a No Smoking symbol, paid for by W Mids Health. QPR's Guinness wasn't quite as good for the kids)
Before then, in the early 80s, my favourite TV show was Doctor Who. I remember well The Keeper of Traken, which introduced companion Nyssa and Anthony Ainsley's version of the Master. It was written by Johnny Byrne (the one who wrote for Space: 1999, mentioned above by JB. He also worked on another old favourite: All Creatures Great and Small).